Parabola-rM
Parabola-rM (PRM) turns a reMarkable e-paper tablet into a laptop. It is a free operating system that replaces the manufacturer's proprietary OS. With it, one may author code, write documents, edit spreadsheets, and do everything that one may do with an ordinary graphical operating system.
All reMarkable hardware works except for the Wi-Fi radio because it requires proprietary firmware. The electrophoretic display supports fast partial refreshing. The EMR digitizer and touchscreen work. The facial buttons work. The power button turns the device on and off, and the power mode can be suspended and come back. External peripherals are supported with USB OTG. Heck, there is even a battery monitor in the desktop's status bar.
Works
Power management (incl. suspend) with splash screens
Fast electrophoretic display refreshing
Graphical X11 desktop optimized for e-paper
EMR digitizer and capacitive touchscreen
Automatic loading of window manager
Battery charge indicator
Facial buttons mapped to Power, Left, Home, and Right keycodes
USB Ethernet and serial
USB On-the-Go (OTG)
Doesn't work
Embedded Wi-Fi networking
Smart Direct Memory Access (SDMA)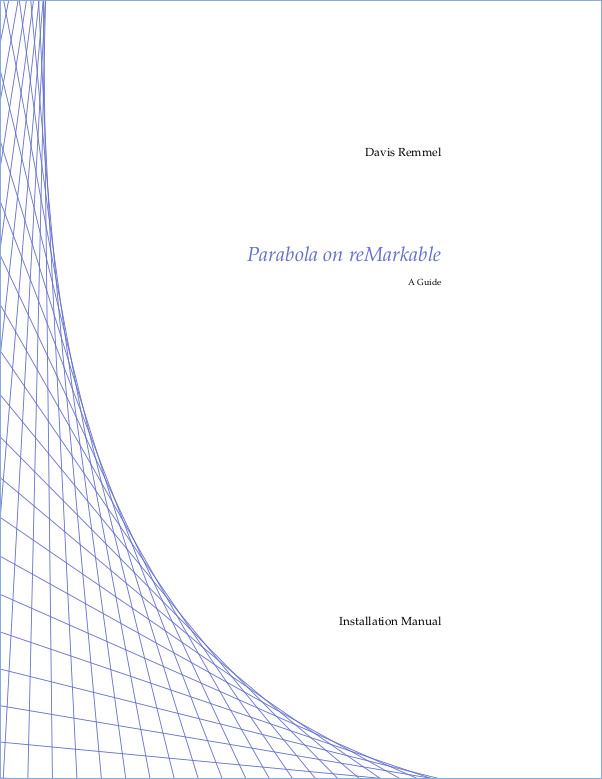 The extended installation manual is available at no charge and covers how to install Parabola GNU/Linux-libre from-scratch. It is recommended to read this, and be comfortable with the process outlined, before purchasing the OS images.
PRM may be purchased for $20 (USD). Half of the proceeds will be split between the Free Software Foundation and the Parabola Project. With purchase, a customer will receive a .tar archive of the following, and 6 months of PRM OS updates.
Compiled Parabola-rM OS image, plus bootloader image suitable for immediate transfer
Compiled versions of imx_usb for FreeBSD, GNU/Linux, and Windows (64-bit)
Installation manual as PDF, HTML, and LaTeX
Support files referenced in the manual
Be entitled to some support via email
A PDF of the extended installation manual is available at no charge. It is recommended that one peruse it before making a purchase. With these OS images, one does not need to follow the whole process: just dd the images over the /dev/mmcblk1boot0 and /dev/mmcblk1 block devices. However, it provides useful context.
I am an independent developer, and unfortunately cannot offer a warranty. Although I've not damaged my tablet with this software, I cannot make any guarantees this won't break yours. This software is sold as-is, without warranty, with no guarantees and no refunds. The funds gathered here will be used to author free, on-device handwriting recognition software.
To purchase PRM with PayPal, click the button below. After payment it will redirect to the download page. Thank you!
Alternative payments may be accepted. Please send me an email to discuss this.
Parabola-rM would not be possible without these organizations. Half of its profits are donated on the first of every month.
| Period | Recipient | Amount (USD) |
| --- | --- | --- |
| Jan 1–31, 2021 | Parabola | 14.19 |
| Jan 1–31, 2021 | FSF | 14.19 |
| Dec 1–31, 2020 | Parabola | 14.12 |
| Dec 1–31, 2020 | FSF | 14.11 |
| Nov 1–30, 2020 | Parabola | 47.82 |
| Nov 1–30, 2020 | FSF | 47.82 |
| Oct 1–31, 2020 | Parabola | 18.97 |
| Oct 1–31, 2020 | FSF | 18.97 |
| Sep 1–30, 2020 | Parabola | 33.30 |
| Sep 1–30, 2020 | FSF | 33.30 |
| Aug 26–31, 2020 | Parabola | 14.27 |
| Aug 26–31, 2020 | FSF | 14.26 |
Various parts of Parabola-rM are licensed differently, but it is all free software; you can redistribute it and/or modify it under the terms of each license. The parts written by Davis Remmel are licensed under the GNU General Public License as published by the Free Software Foundation, either version 3 of the License, or (at your option) any later version.
This software is sold as-is, without warranty, and all sales are final. However, I do have a personal interest in making sure each customer is satisfied, so please email me for support if you have a problem (support details are in the manual).
reMarkable® is a registered tradebark of reMarkable AS. Parabola-rM is not affiliated with, or endorsed by, reMarkable AS. The use of "reMarkable" in this work refers to the company's e-paper tablet product(s).