Sat, Jun 16, 2007 at 2:04AM
I have currently took on the challenge of familiarizing myself with a 5x7 LED Dot Matrix Pong project that I found. This was created by Havard Moen, Hakon A. Hjortland, and Alf Storm. When researching the project, I discovered that there was no schematic or parts list on the original site, so I went out and created my own! I e-mailed Hakon, and he replied with a general parts list. The replied message is shown below:
On Sun, 2007-06-17 at 17:14 -0500, Davis Remmel wrote:

I think that your work on the 5x7 pong project was excellent! If you could, would you please send me a parts list for the 5x7 pong project?

Thank you for your time, Davis

ATMega16
Decoupling capacitors: 100nF ceramic for example
5x7 LED matrix
Series resistors for the 5x7 LED: 1kOhm for example
Score indicator and power indicator LEDs with series resistors (1kOhm for example)
Pushbuttons
5V voltage regulator
Power supply. For example 9V. Or direct 5V instead of using voltage regulator.
Breadboard
Wires
Parts for home made upload cable: http://heim.ifi.uio.no/~haakoh/avr/uisp-parport-connect.txt Essentially DSUB25 connector (or is it 23? I don't remember!) and wires.
Computer

Good luck!

– Best regards, Hakon
This is a general outline of parts, but I needed something more specific, and I want to share the information I created. The specific parts list is shown below:
Description
Digi-Key Part #
Price/ea [DK]
Radio Shack Part #
Price/ea [RS]
Qty (individual components)
1k Ohm 1/4W Resistor
1.0KQBK-ND
.054
271-1321
.99
10
7805 5V Voltage Regulator
497-1170-1-ND
1.04
276-1770
1.59
1
100nF Ceramic Disc Capacitor
399-4454-1-ND
.13
272-135
1.29
2
Atmel ATMega16(L)
ATMEGA16-16PU-ND
6.56
N/A
N/A
1
1.5-3V 20mA LED
754-1264-ND
.09
276-1622
2.59
3
N.O.Momentary Push Buttons
EG2490-ND
.031
275-1547
3.29
4
5x7 LED Dot Matrix Display
160-1002-ND
2.29
N/A
N/A
1
Programming Cable
Wire
Optional:
SPST Power Switch
Universal Breadboard
Enclosure: Mouser has some decent enclosures with battery space built in. They are like a GameBoy enclosure only "blank".
*Prices are in USD
Also, I had to draw up a schematic for this project, as there was not one supplied on the original site.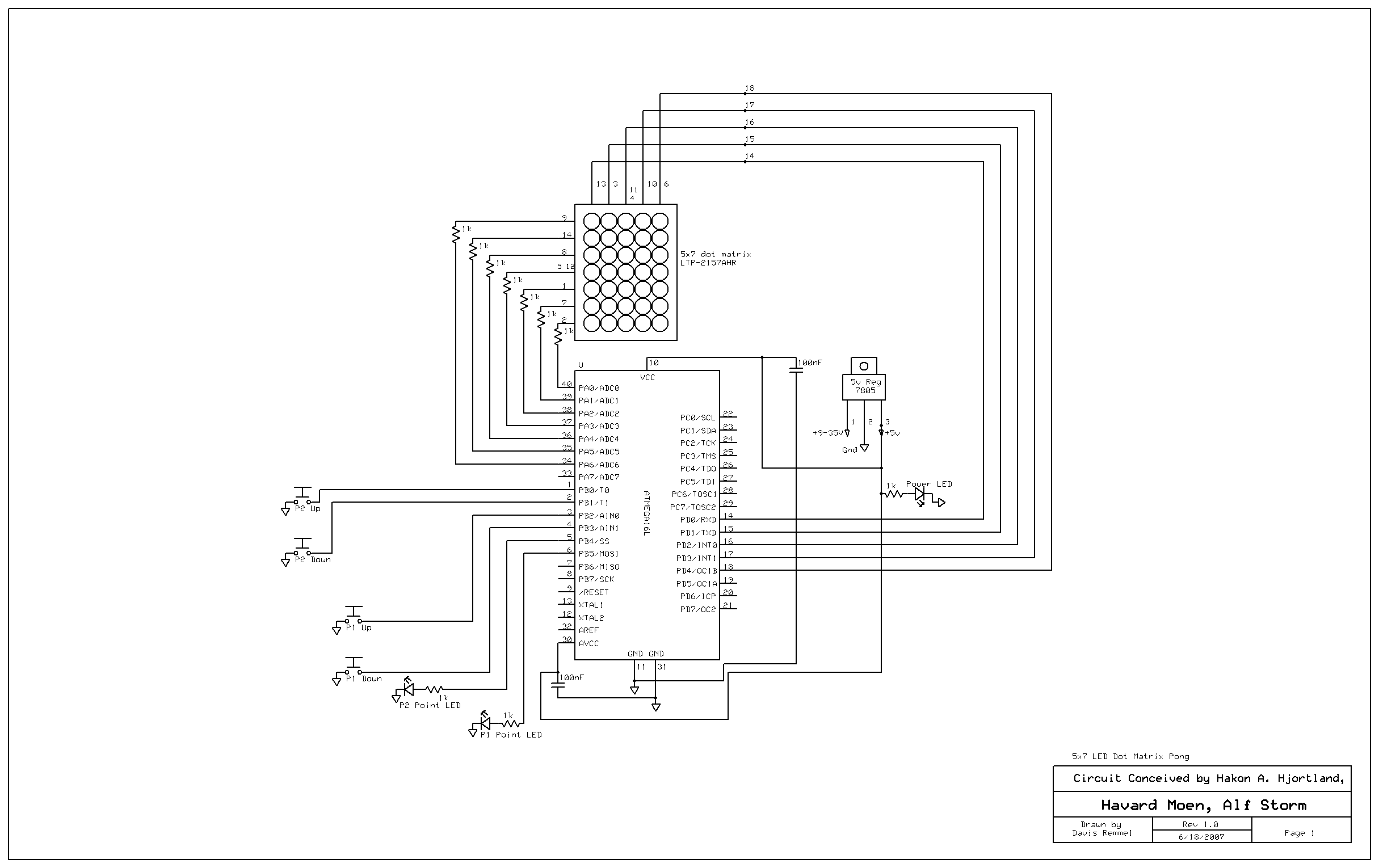 I will keep everyone posted on my progress, but in the mean time you should really check out the other things on Hakon's website; did you know that he also made a laser animation projector?!